A festive feeling coupled with a tinge of cold—it's beginning to look a lot like Christmas!
More than the jingles and decor, the Yuletide season is the perfect time for thanksgiving. It's a celebration of family and friendship as we gather and share good food and loads of gifts.
Speaking of gifts, if you haven't ticked off anything from your list, you're in luck. In this piece, we give you several kawaii gift ideas that your nearest and dearest will surely love.
For the kids at heart
They say Christmas is a time for kids and what better way to make them smile than the most adorable gifts?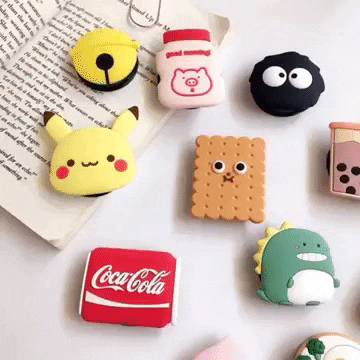 For the dearest friends that are certified kids at heart, give them something that will ultimately transform their smartphones and gadgets into the coolest and cutest of toys. 
Inspired by all things trendy from food to anime, these airpod and phone cases are bound to make any of your kiddie friends giddy this Christmas.
For the love of chic
Don't know what to gift a chic sister or colleague? Don't worry—you can never go wrong with something that's functional but dainty.
Infuse a little playfulness in their makeup kits or skincare routines with these themed beauty accessories, brushes, and headbands.
You can also help them relieve some work or school-related stress by beautifying their desks with chic, but useful stationery supplies.
Lastly, a girl can never have too many bags. Take your pick from a wide selection of frilly purses, everyday tote bags, to spacious backpacks.
For the fashionable fan
Behind every thoughtful Christmas gift is a giver who knows what his or her recipient likes.
If you're playing Santa to someone who's a fan, giving the items inspired by their favorites will do the trick. Trust us, it works 99.99% of the time.
If your friend or relative is a big otaku, items featuring their beloved anime series or movies will surely be met with an enthusiastic "oh my gosh!" 
For animal lovers, how about gifting them some wearables that will remind them of their beloved furry friends? Make them go "aaww" with these fuzzy animal hoodies! Aside from the cute factor, it will also warm them up, in style, this Christmas.
Got someone on your list who's addicted to Korean pop? Then be on the lookout for clothing or accessories inspired by their bias' outfits! 
Need more ideas? Browse these bestsellers to find the perfect token for the people who made your year.
Christmas is indeed a time when our hearts are brimming with love and generosity. So go all the way for the people who are on your nice list. Happy holiday shopping!
FEATURED LOOKS